Learn from everyone, copy no one.
This post will be a regularly updated collection of good email campaigns for you to find inspiration.  I decided to create this (also a Pinterest board) because:
As cookies crumble, the importance of email campaigns to engage with your audience will surely rise by many orders of magnitude.
I find these examples helpful and imagine other people would too.
I need to save them somewhere so why not share them with everyone.
Other similar communities like marketing examples and swipe files focus more on sharing deep-dive analysis vs. examples.
Surprise, surprise, an email campaign is much more than a sales alert channel.
So here we go - stay curious, stay inspired.  
I will organize them into categories when the list becomes too long. Right now, just scroll away:)
---
Billie - Cancelation confirmation email
Highlighting a real person read the reply (most don't) will encourage feedback and start conversations with customers.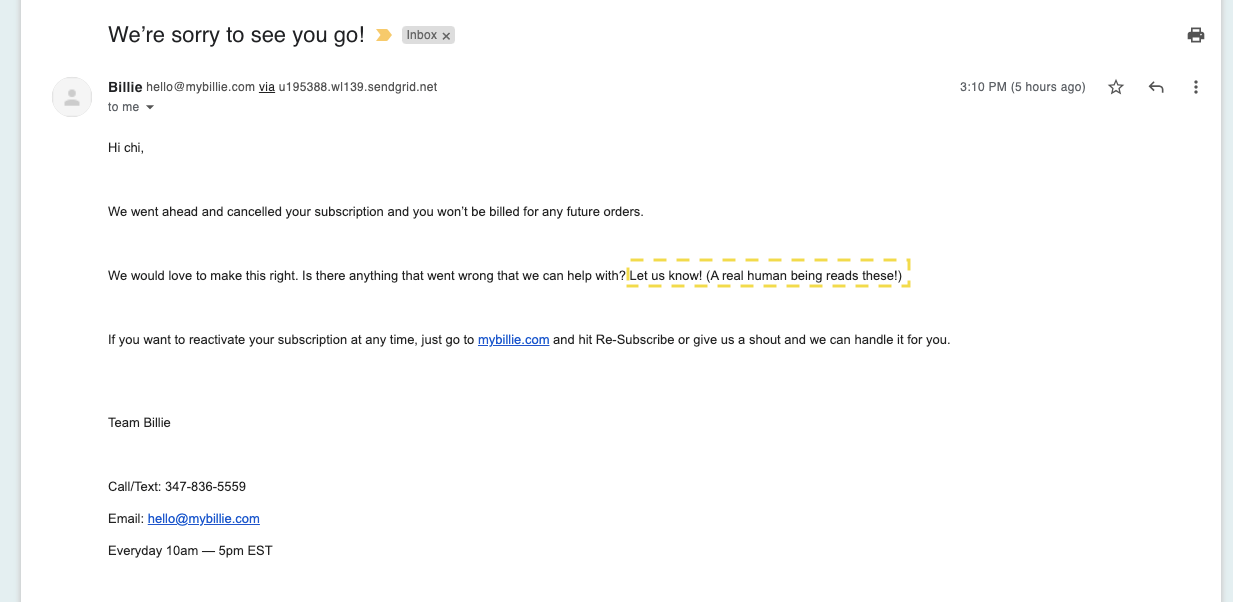 Sephora -  Onboarding Email
Onboarding email is common in B2B but is rarely seen in B2C - even though customer satisfaction is the primary indicator of retention.
Retention=growth. Send your customer a quick note on how to get the best out of your products, as the one Sephora sent to me, will help your customers and help you.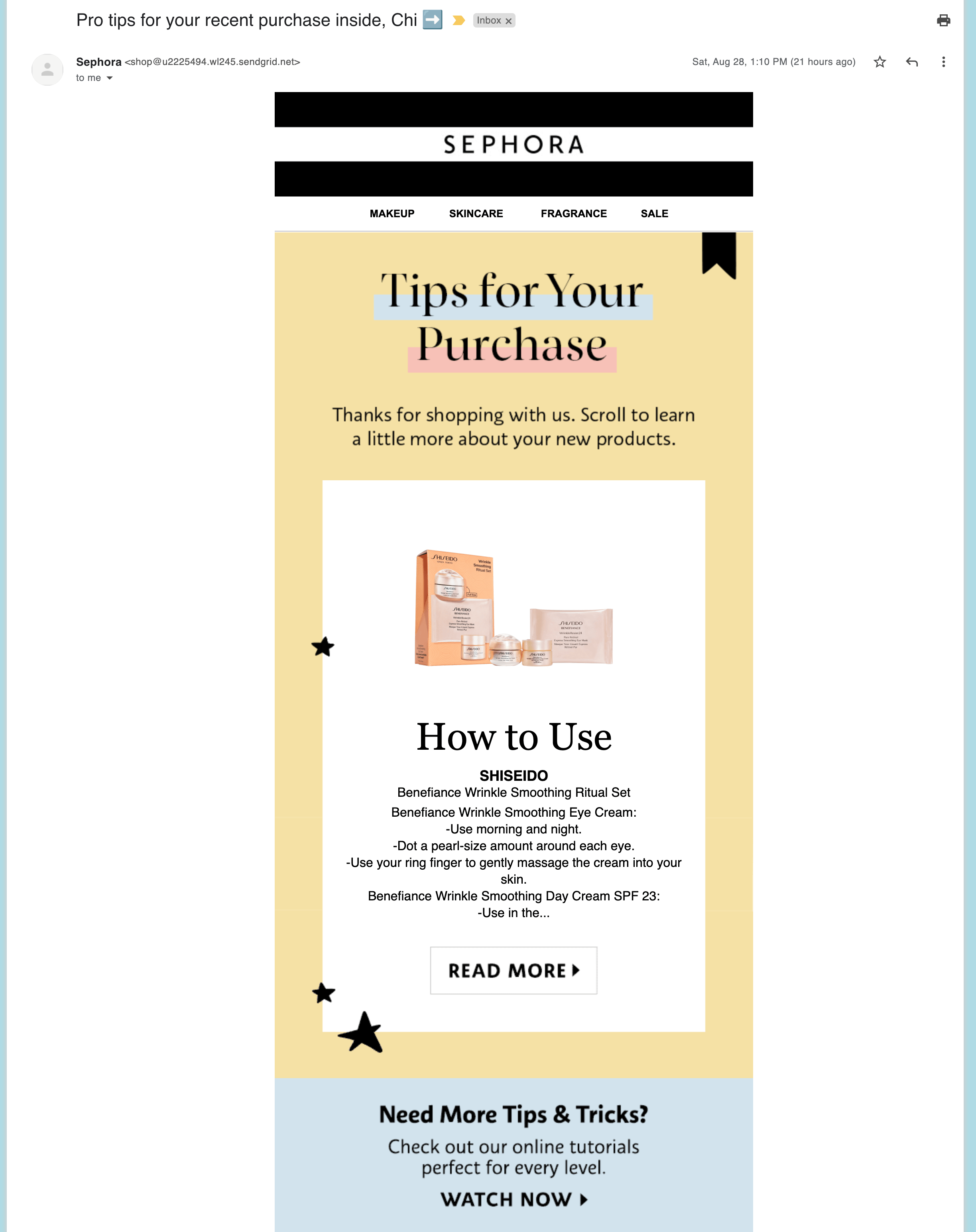 Everlane - Shipping delay email
Be upfront and set expectations about shipping delays > angry customers later.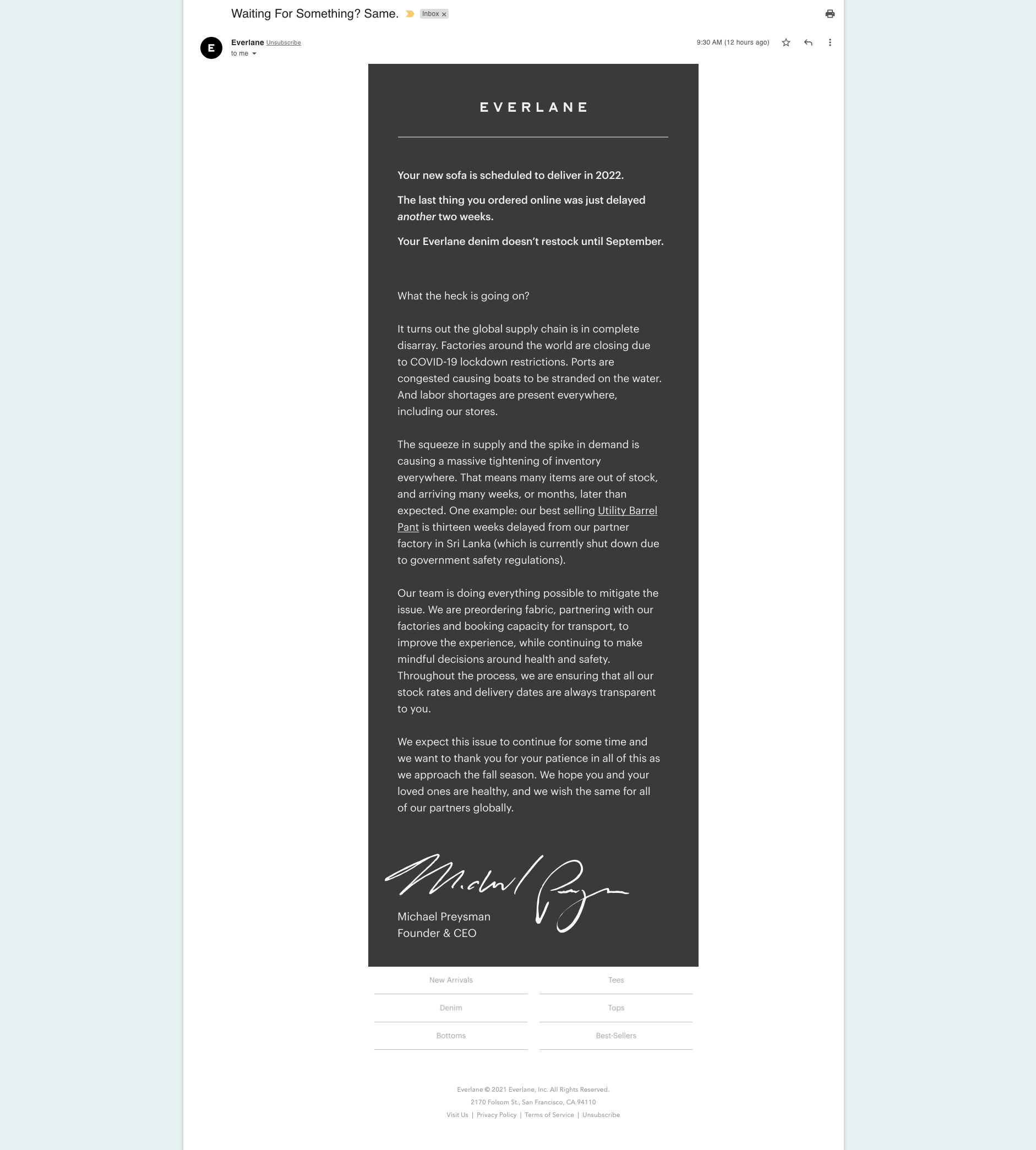 A one-pager on why they should choose you. Surprisingly, few brands do this - most brands themselves probably are not clear on this either.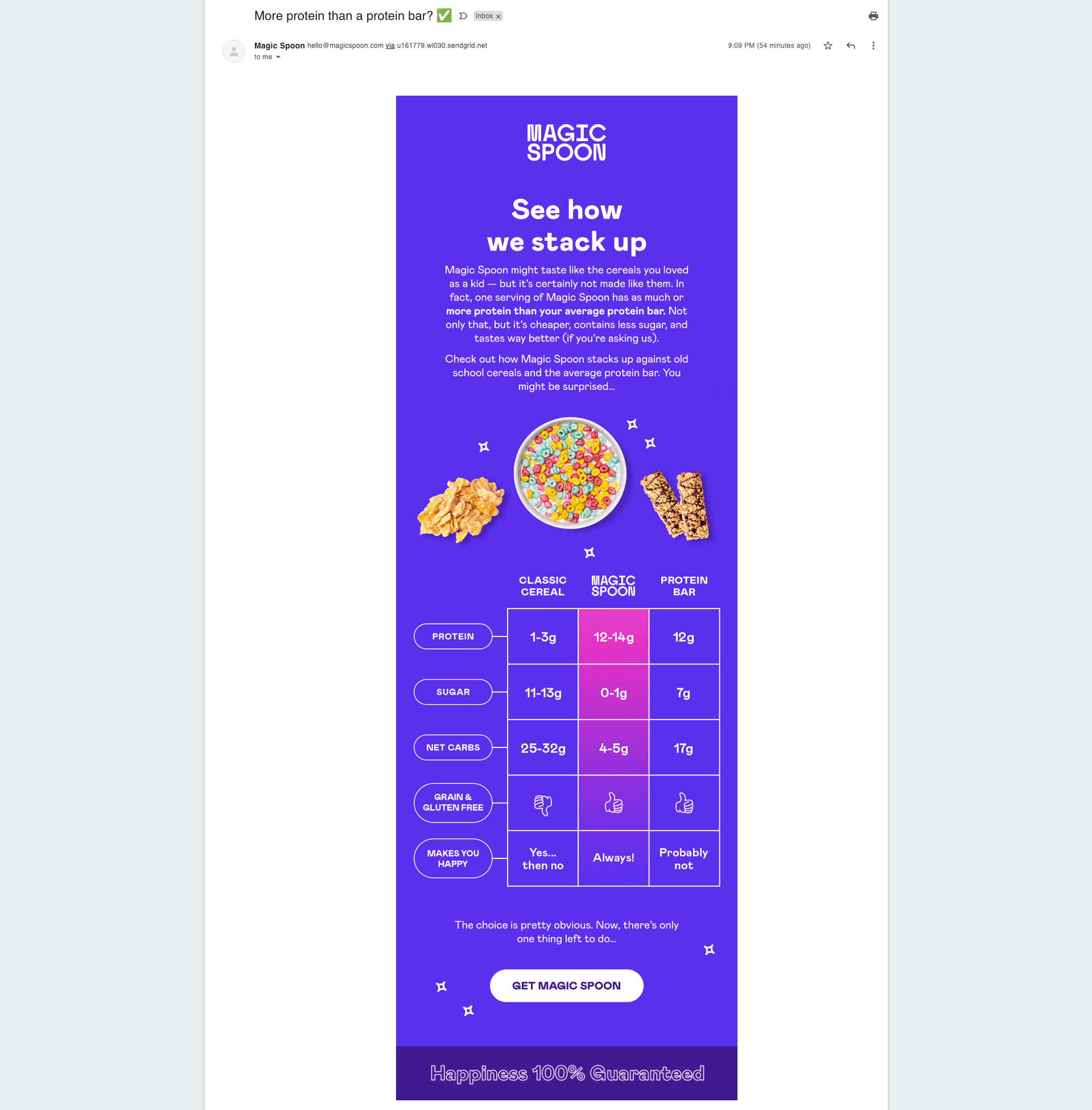 Nik Sharma - Confirmation email
Confirmation emails have the highest open rate - use it. Nik here asks recipients to reply to the confirmation email to increase his domain reputation and get his emails to the good tabs.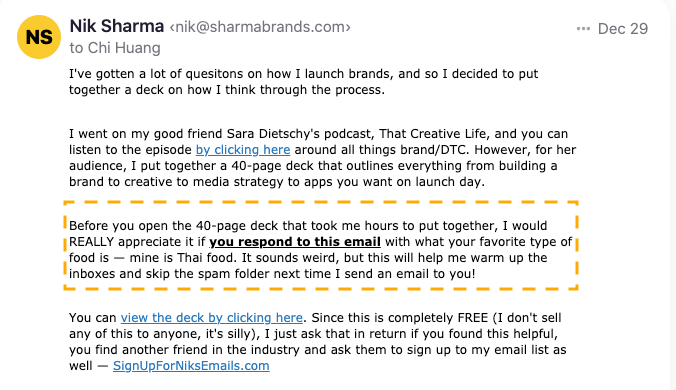 Shopbop - Re-engagement email
Use this kind of email to get rid of dormant subscribers can increase your domain reputation and reduce spam rate.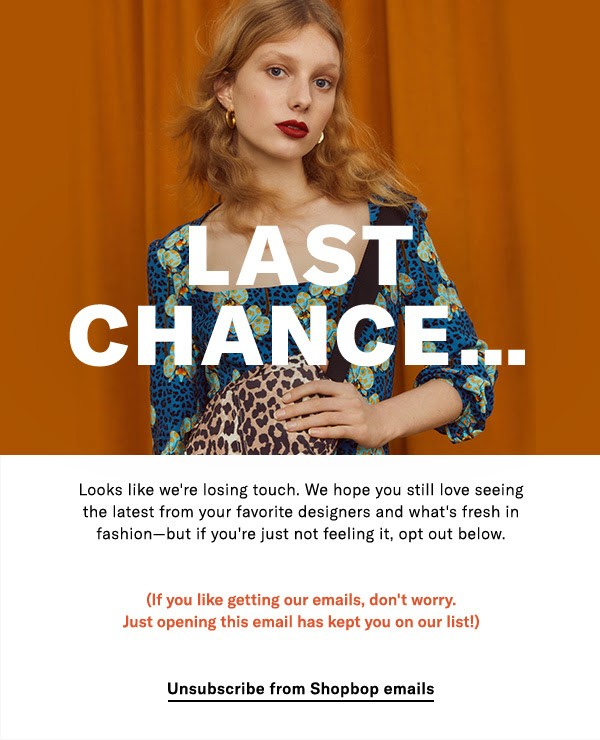 Ghia - Positioning email
Through a recipe, Ghia cleverly repositioned its spritz into another category - popsicles, which immediately extended its market and likely to increase conversion. Think about how you can do that with your products in your own email campaign.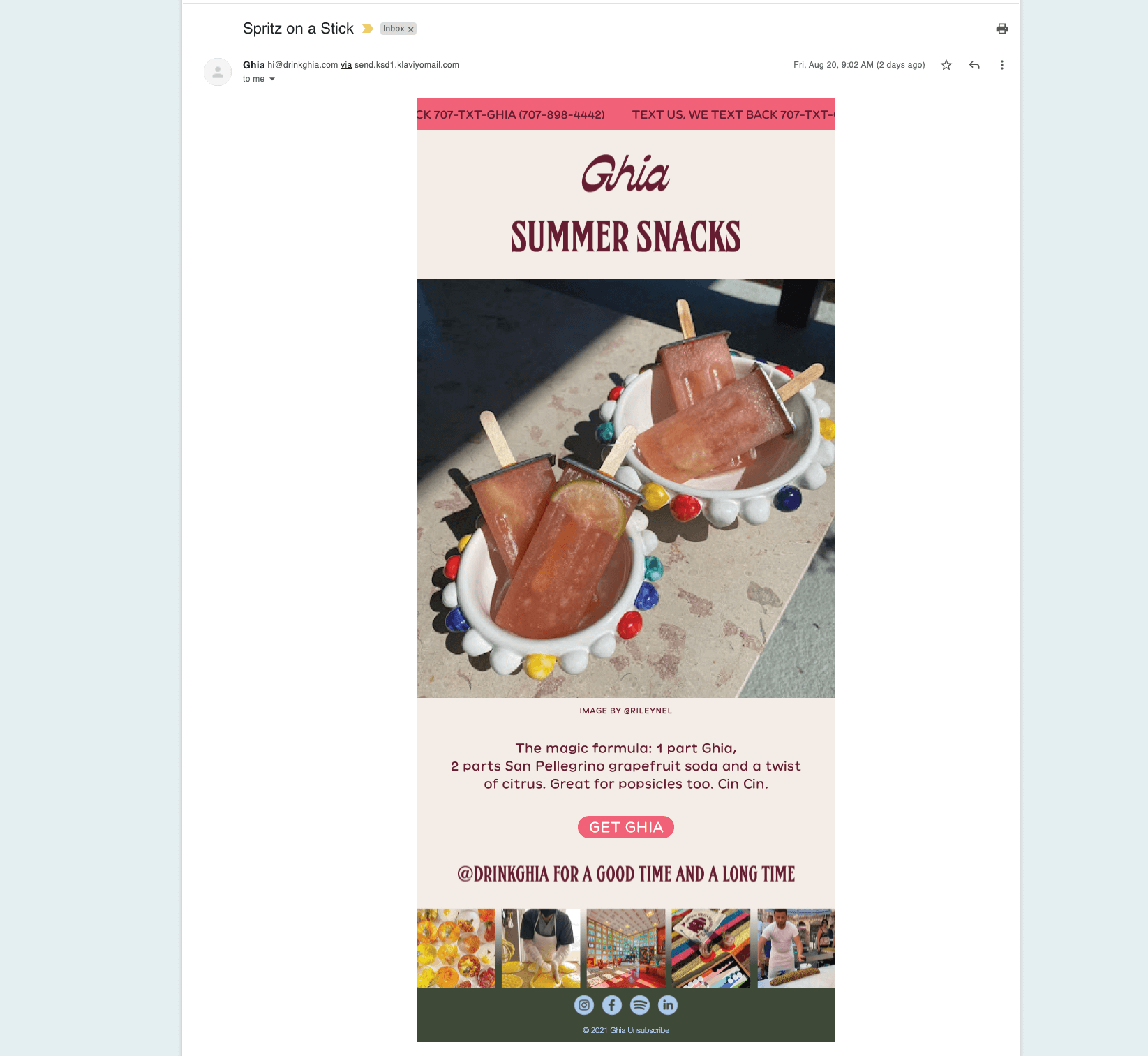 The forever dilemma of why buy on a brand's DTC site if the products are available through retailers... Charlotte Tilbury knows one of the reasons is thoughtfully put-together and exclusive sets.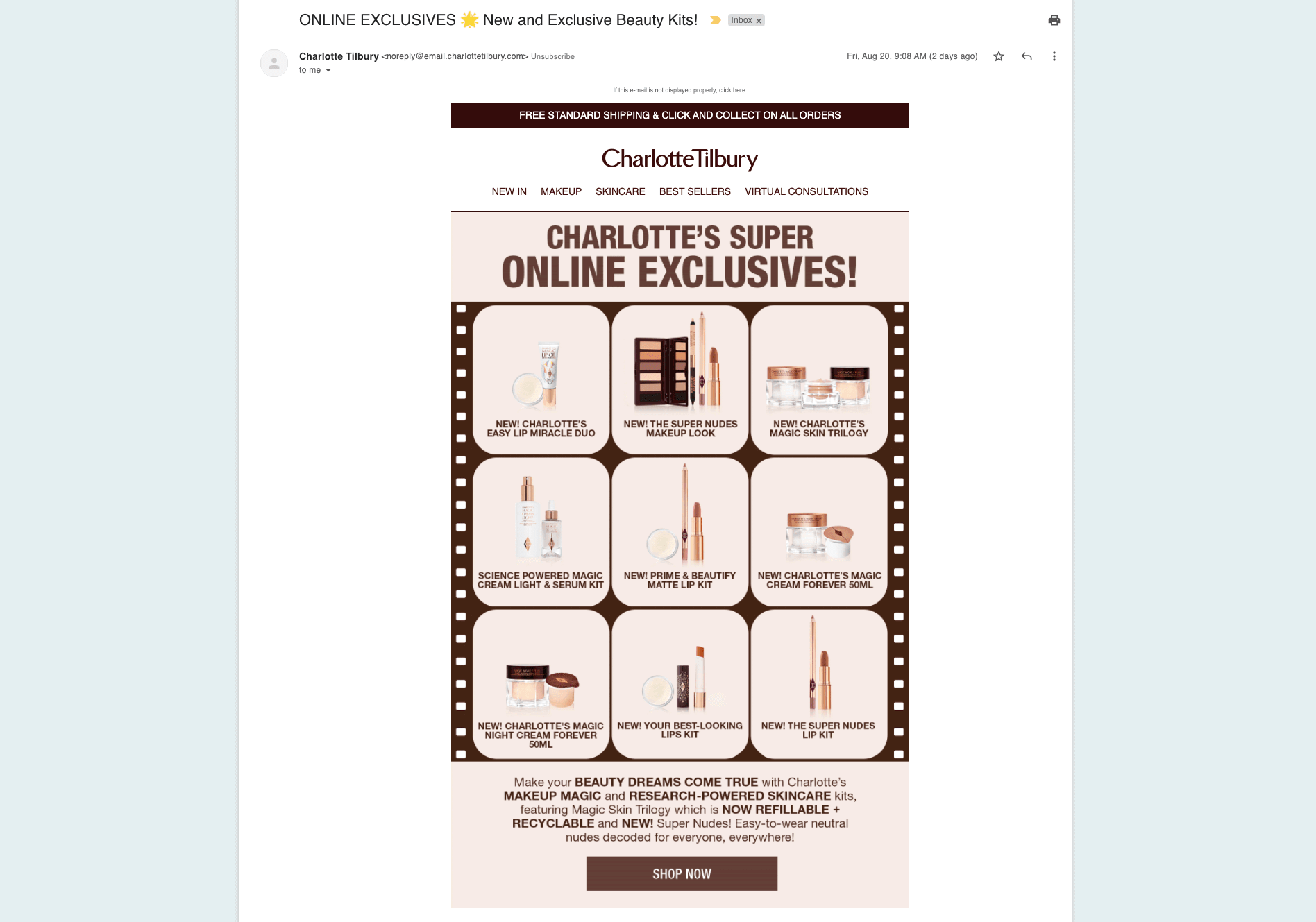 Kosas - Product launch waitlist email
Product launch waitlist email is useful, for gauging demand, identifying the most loyal customers and their preferences.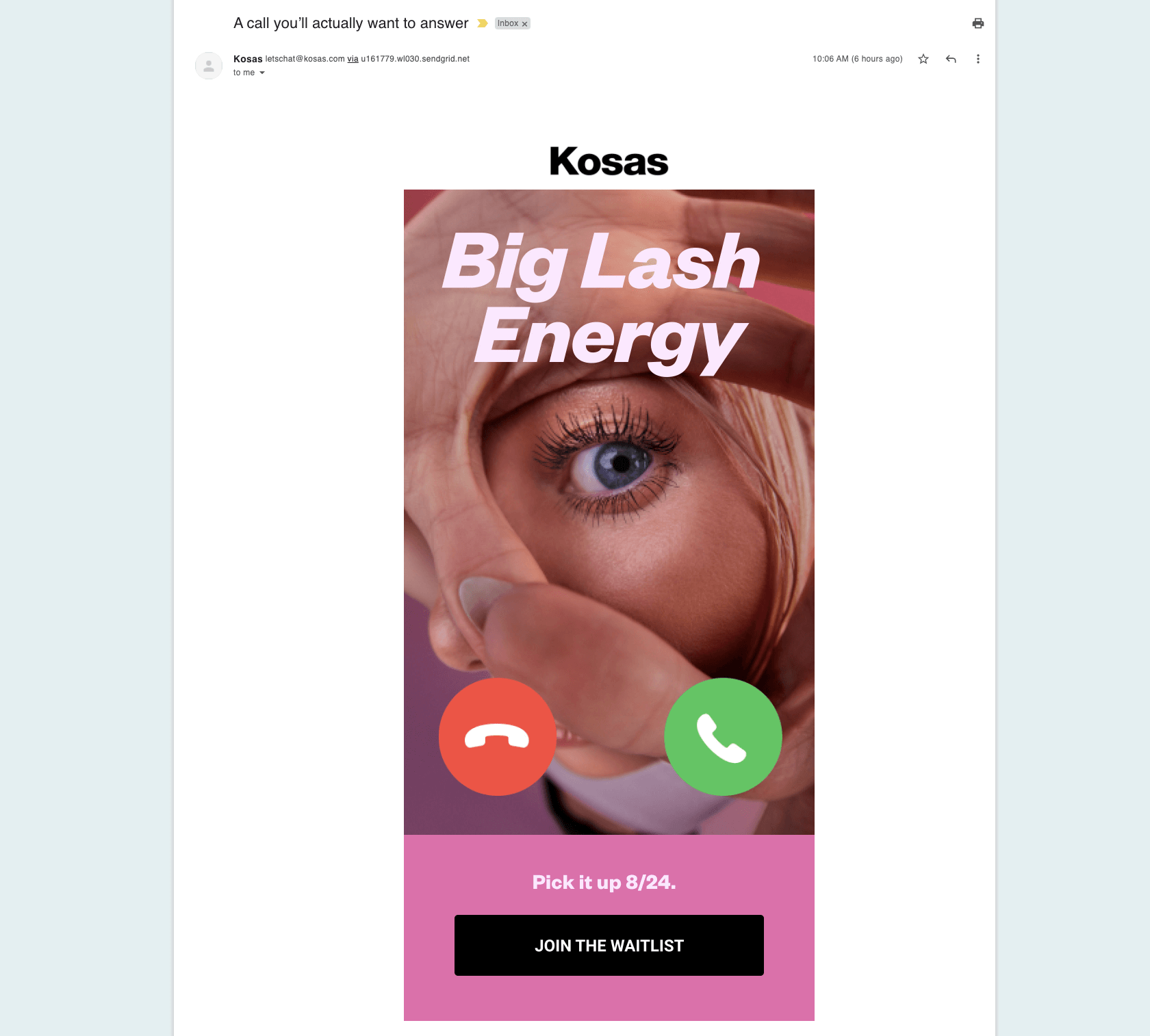 Everlane - Cart abandon email
Instead of a plain "did you forget something" cart abandon email, Everlane explains to customers why they should take another look.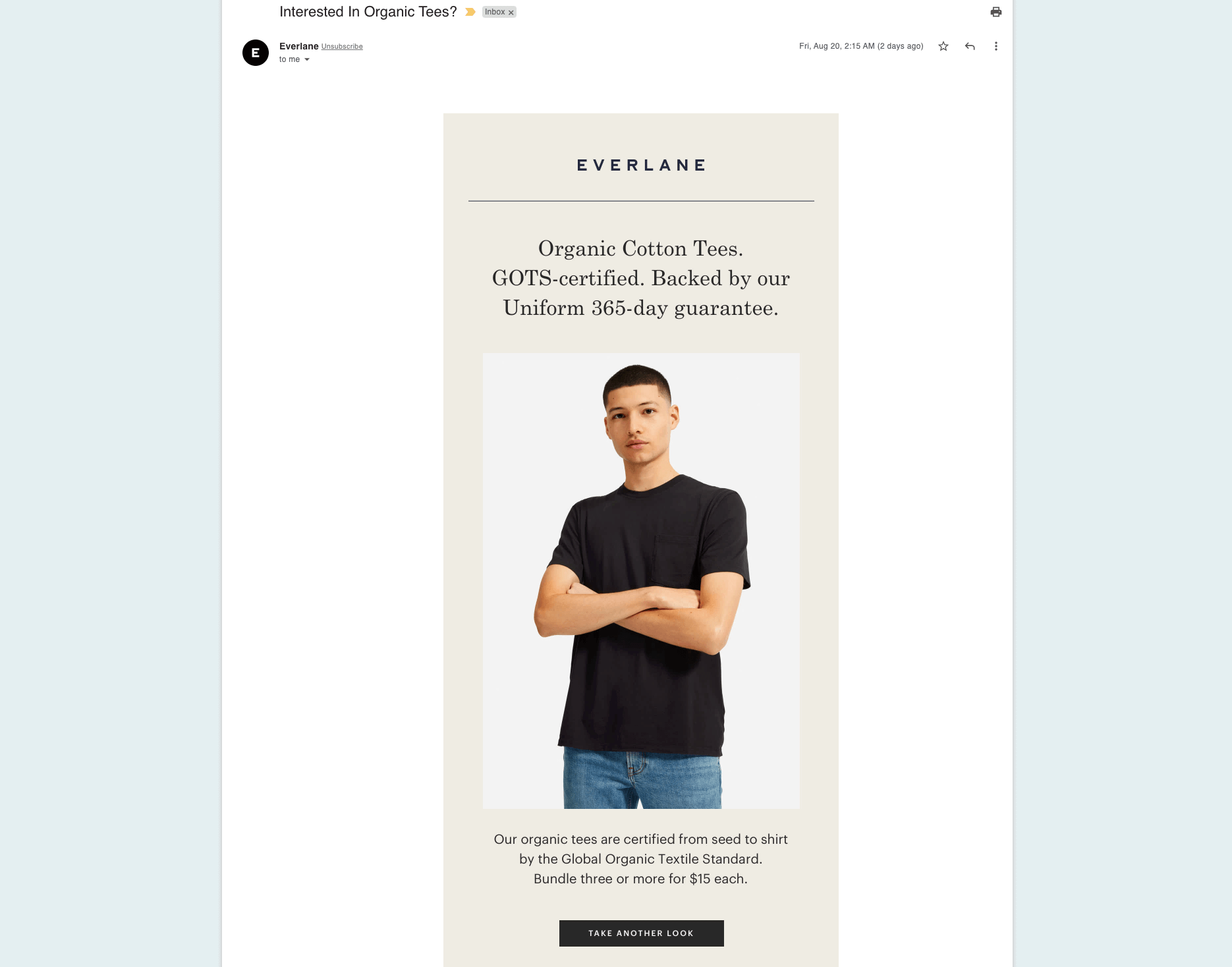 Make it easier for customers by giving them personalized links in the email.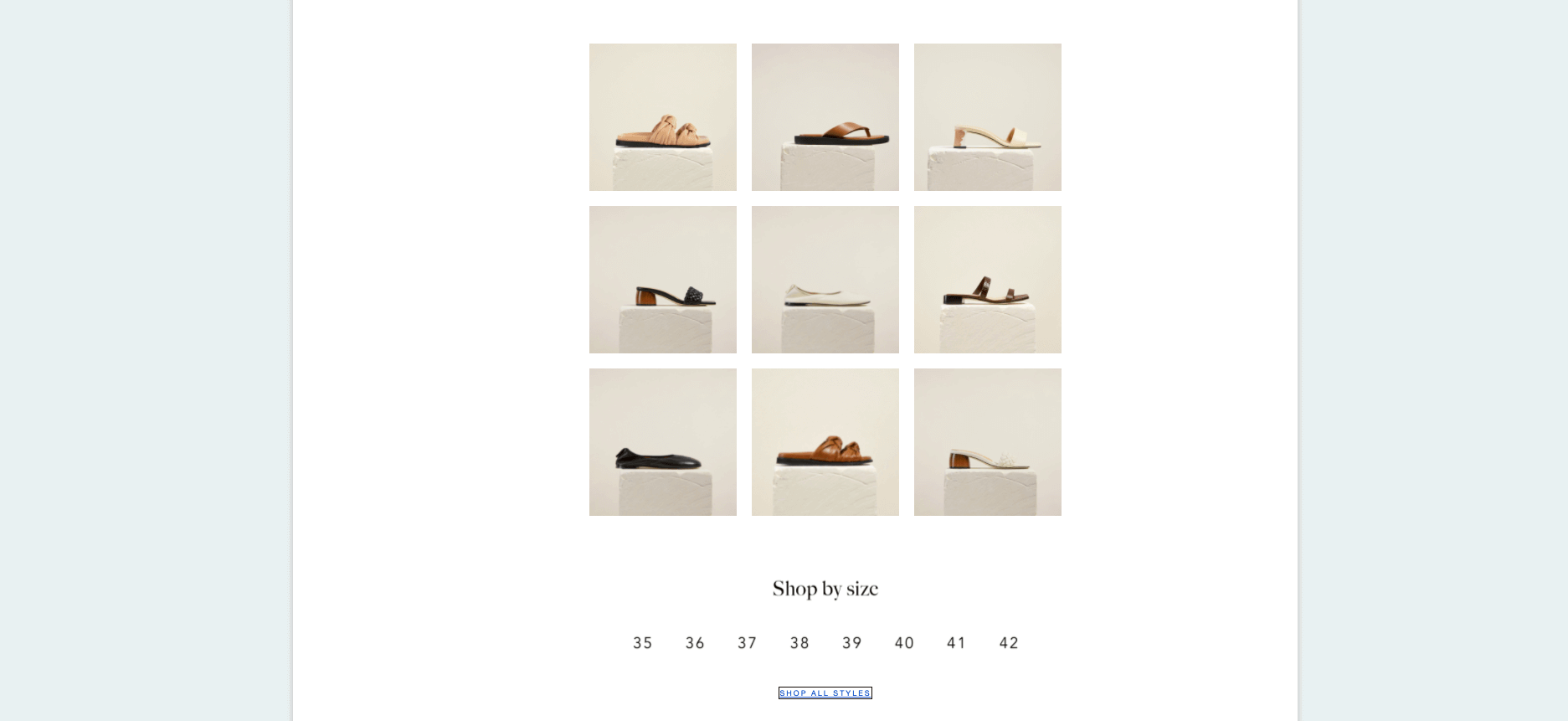 Perch - 5-star reviews email
Customers' raving reviews are a brand's best content. Put it into your email campaigns whenever you can, they sell.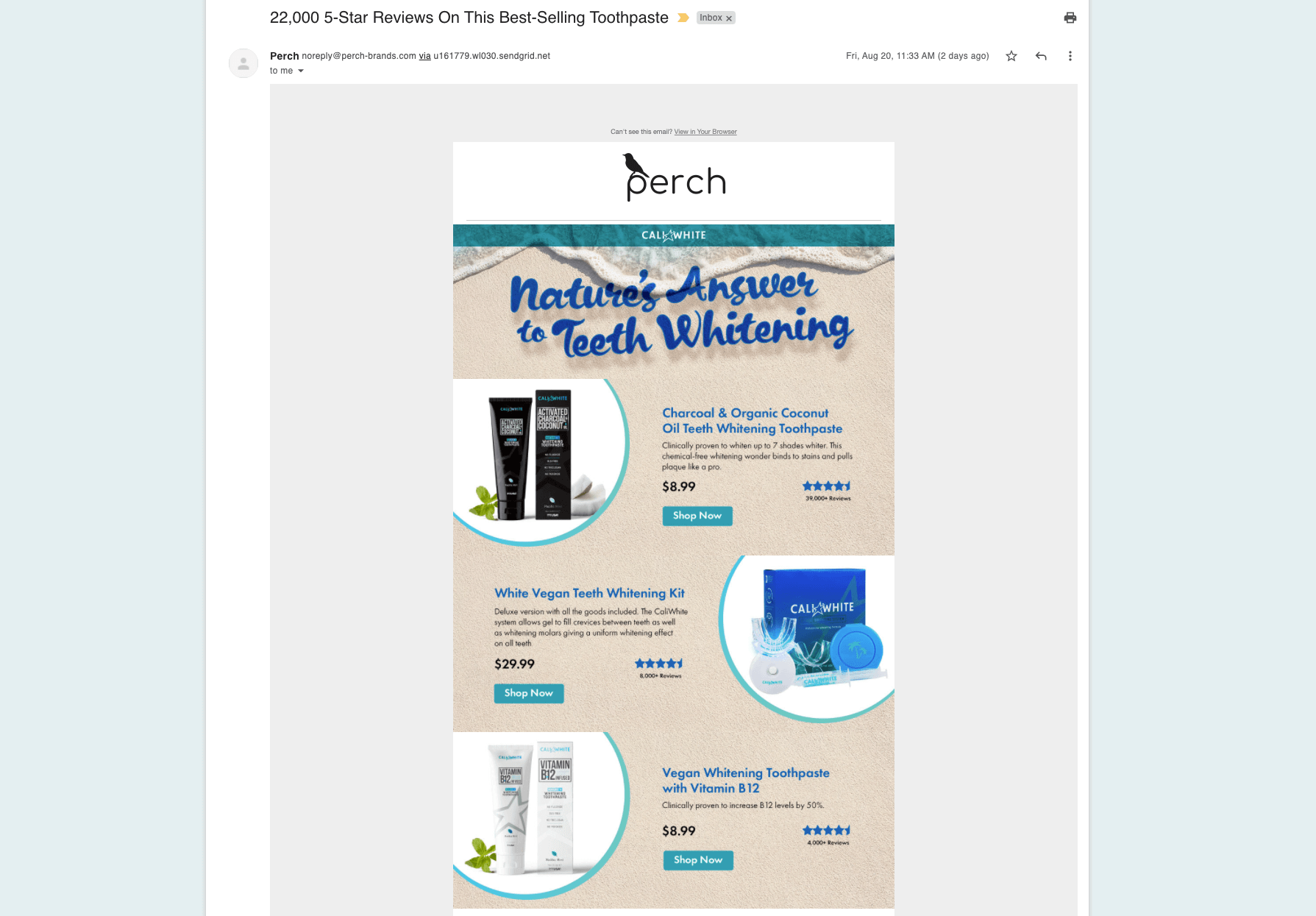 Canva -  CTA for every section
For a long storytelling email, put a CTA in every section to avoid losing the click-throughs.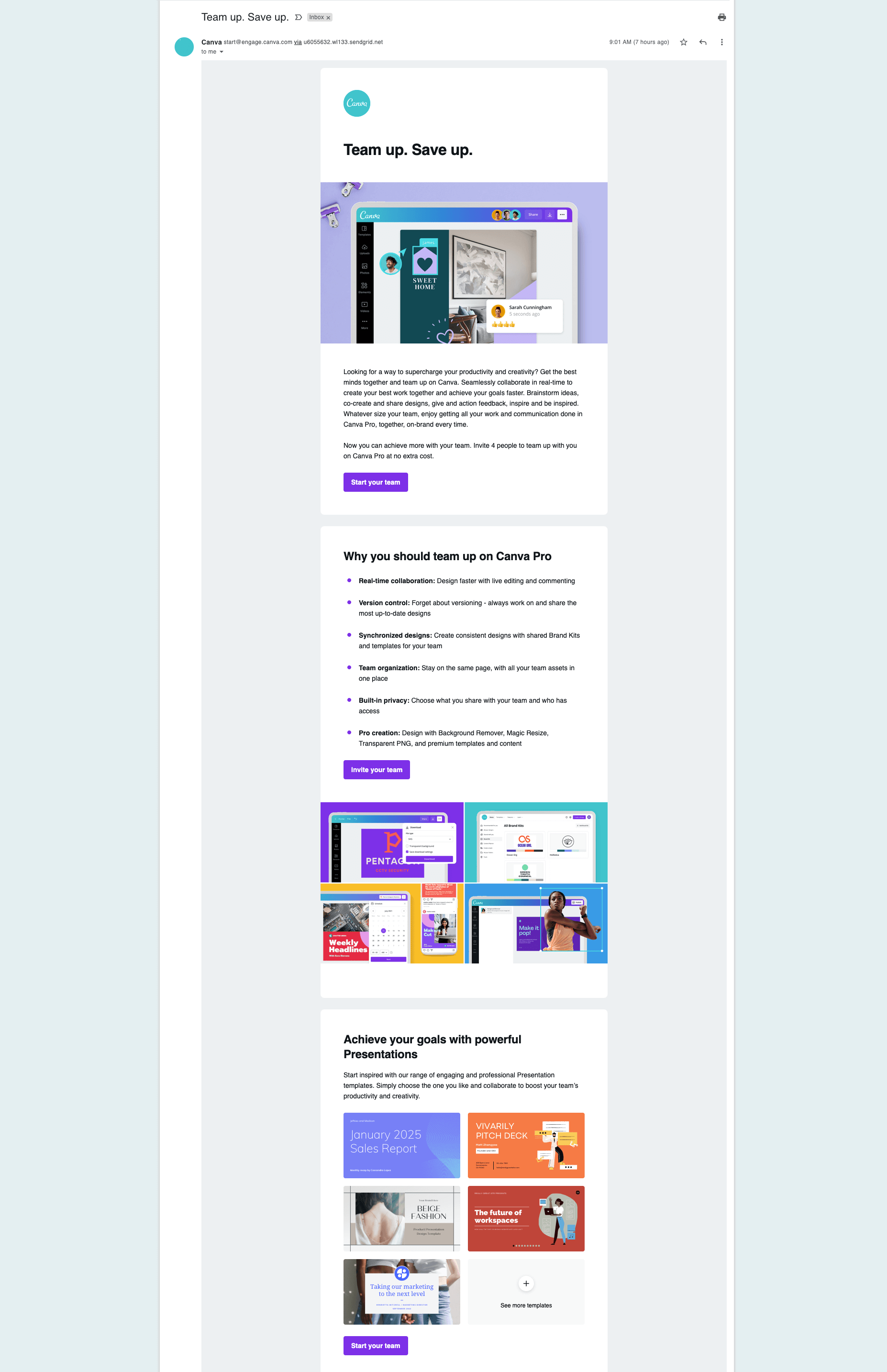 Sephora - Replenishment email
Sephora estimates the time for a product to finish and schedule a replenishment email to be sent at the perfect time - very likely a customer would have almost finished the product and likely to convert through the email.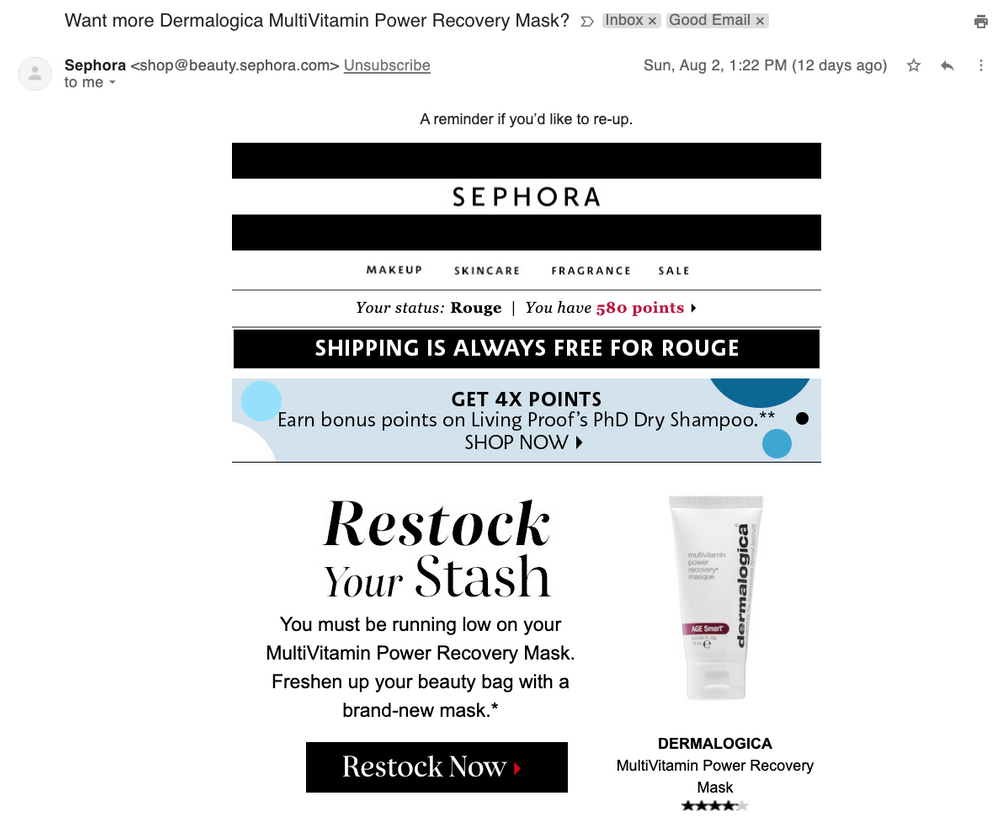 Function of Beauty's product launch email didn't take the 'reveal everything in the email' route. Instead, the email incentivizes people to click through and let the landing page (with much more details) do the selling.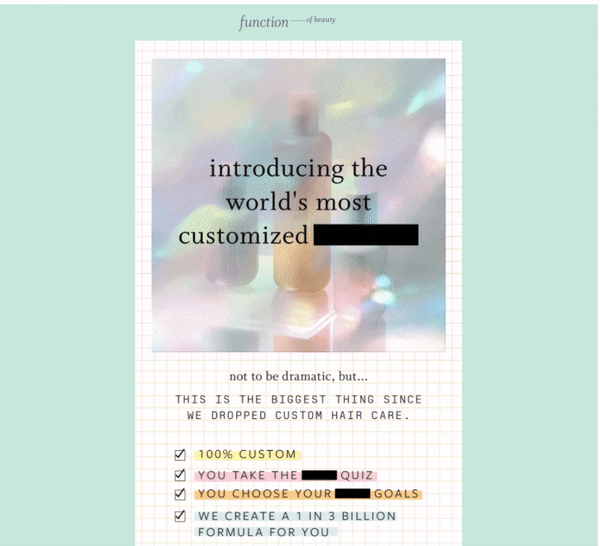 Everlane - Product recommendation email
Everlane must have weather data in their recommender system! They predicted the customers' state of mind at the time (so hot - what can I do) and made the perfect recommendation.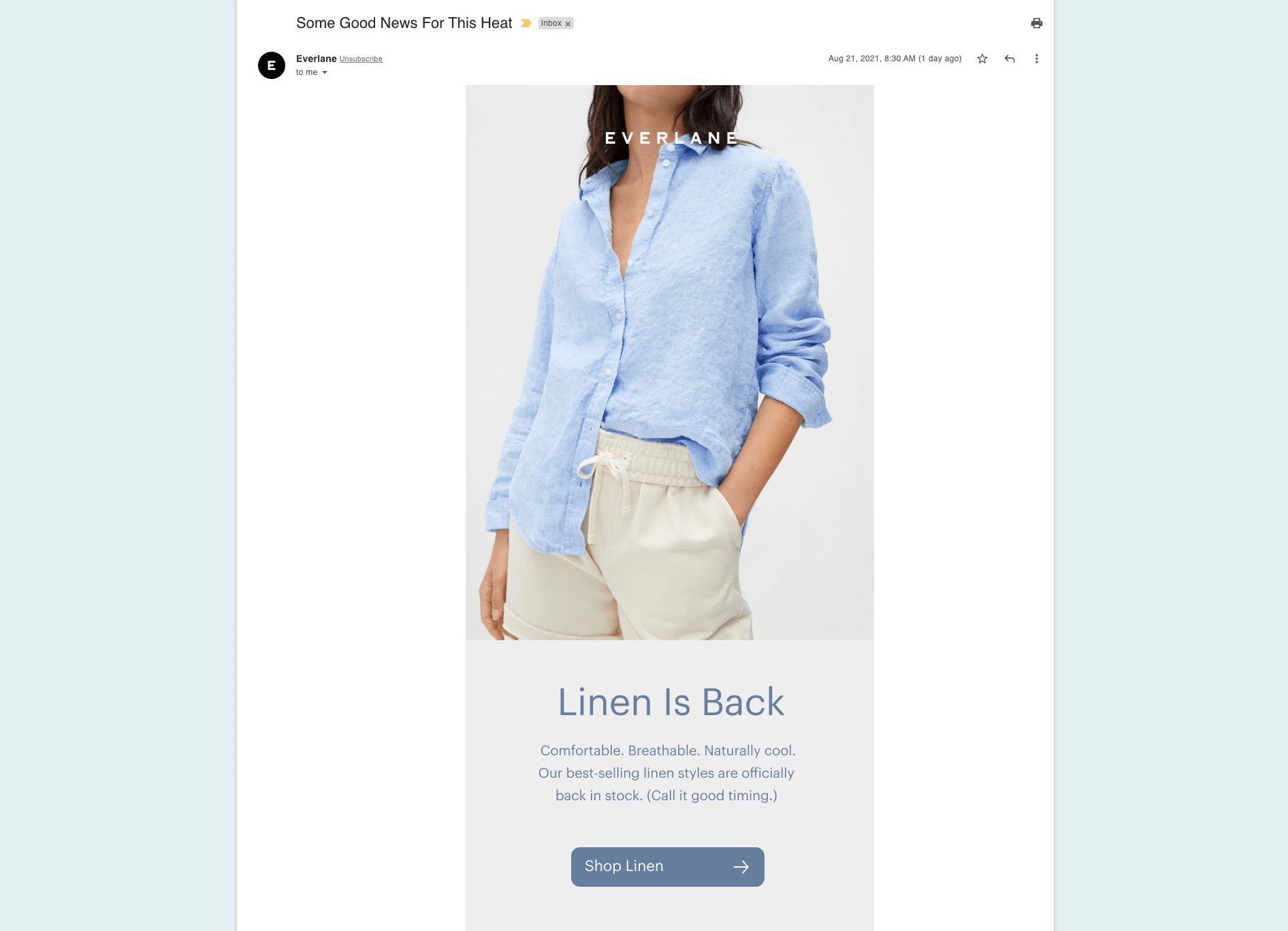 UGG - Product recommendation email
A similar concept to Everlane's (does every brand use weather data in their email now?). The concept is just as good, but the copy could be more subtle, less creepy.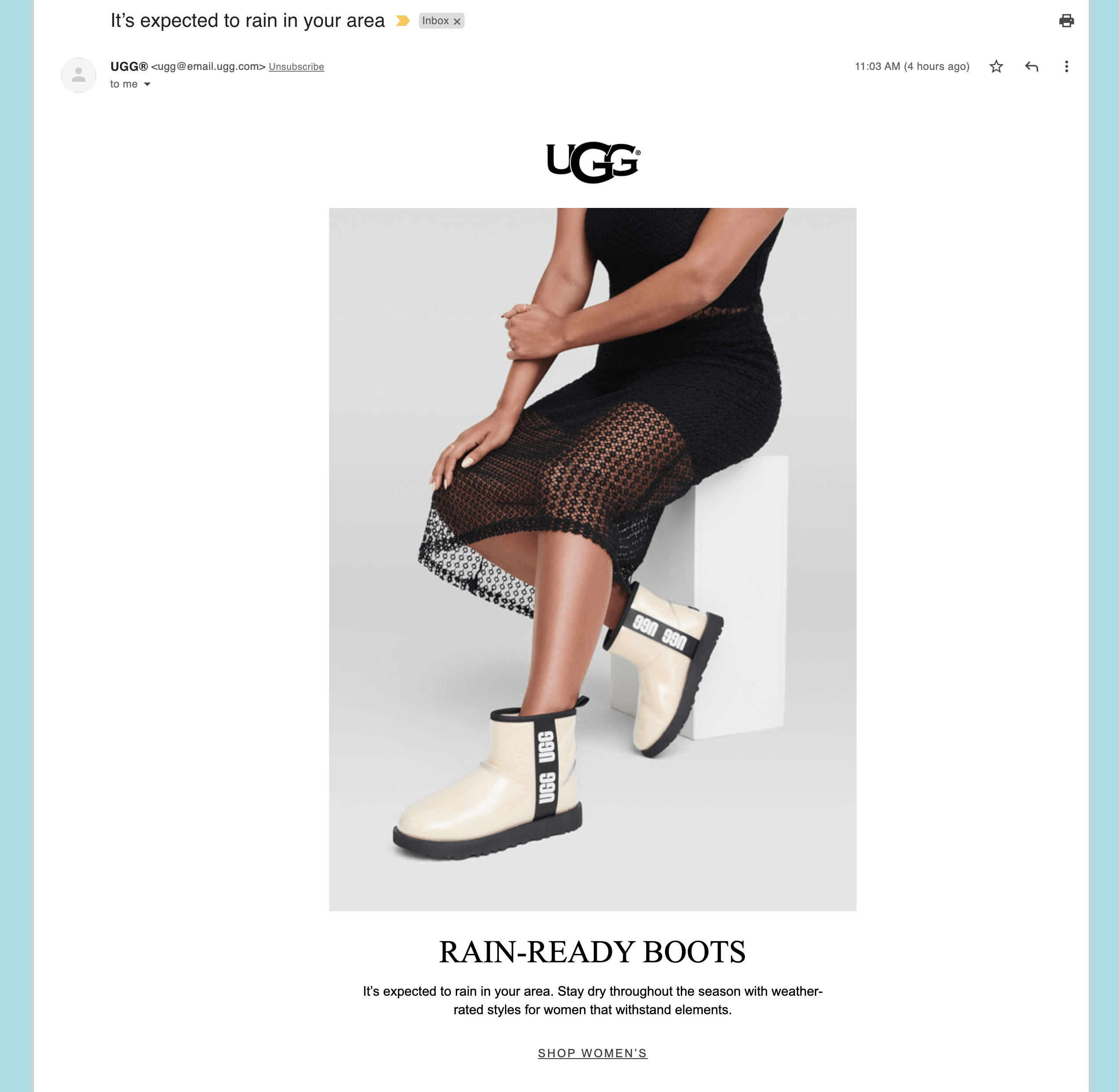 The essence of good marketing (in my opinion) is to communicate without making it harder for customers. Rowing Blazers showed all back-in-stock in one image so customers don't have to do extra clicks to see.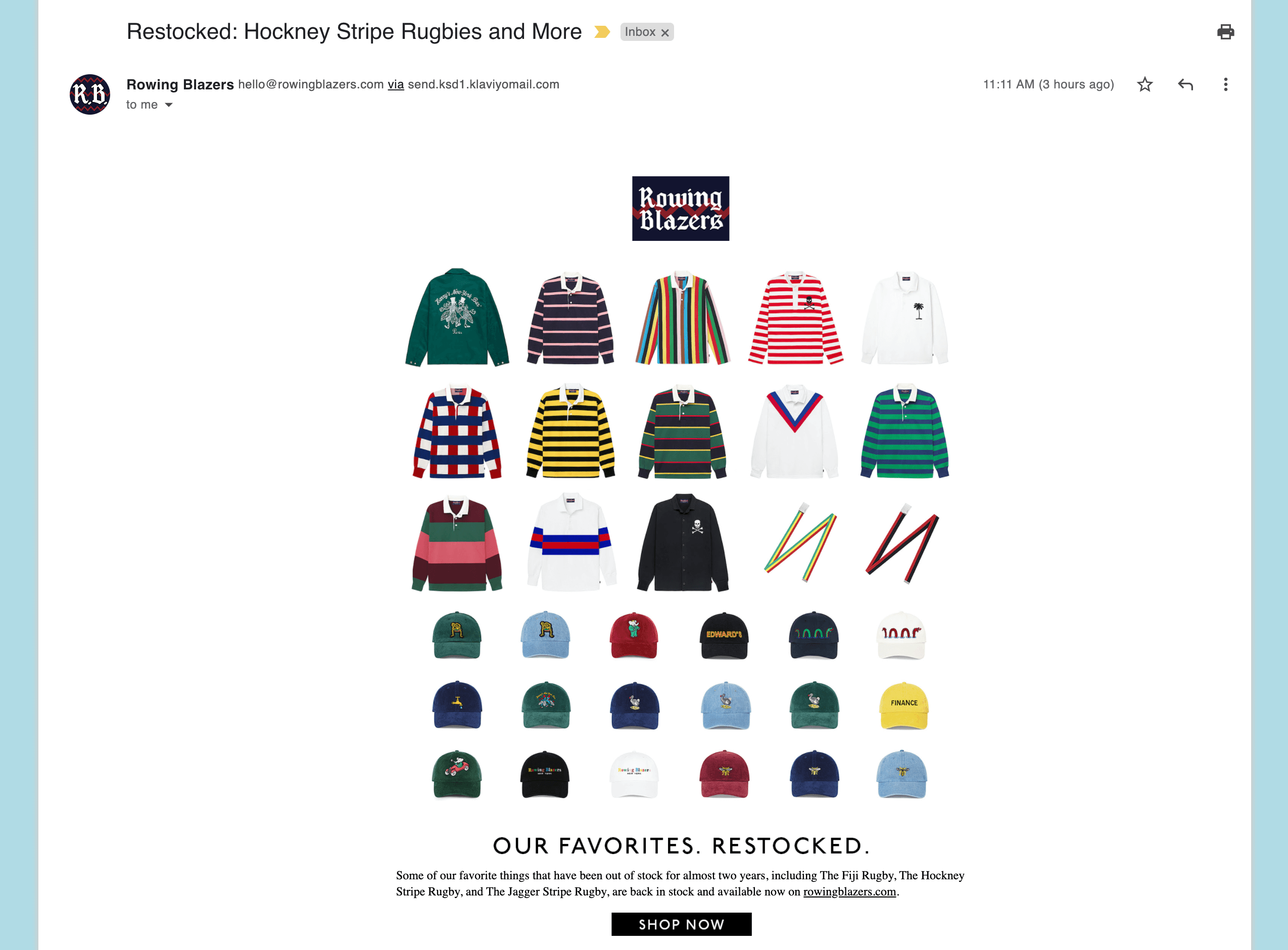 Violet Grey - Content meet commerce
Most email campaigns today have no content, only commerce (sales, shop now, buy now, ends today, etc.). Violet Grey's email is a rare sight that gives people reason to open and read, not just as a means of sales alert.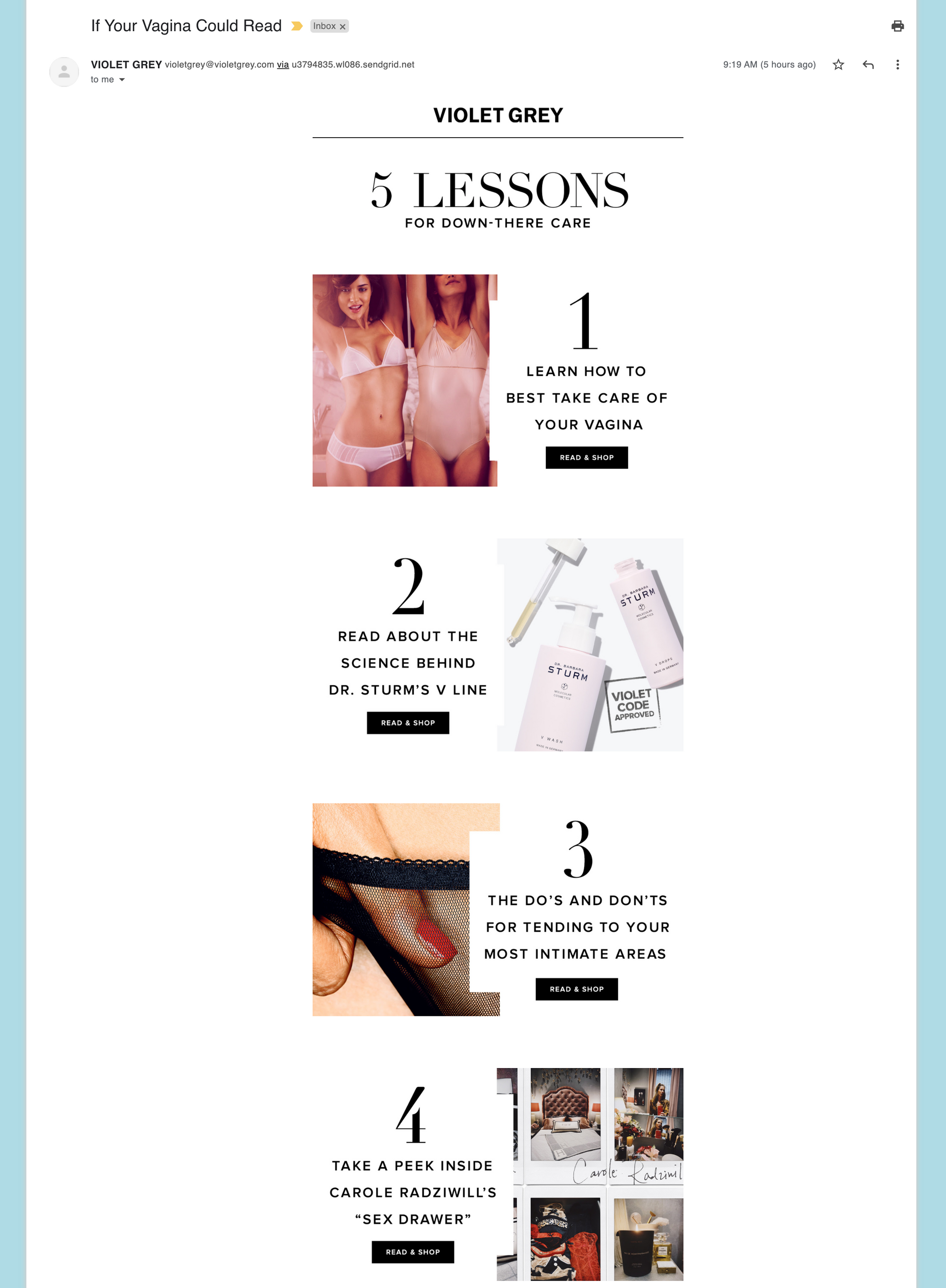 Supergoop - Product differentiation email
If you have multiple SKUs of similar products, chances are some customers are confused. Create a simple visual like Supergoop did to help customers find the best one for them.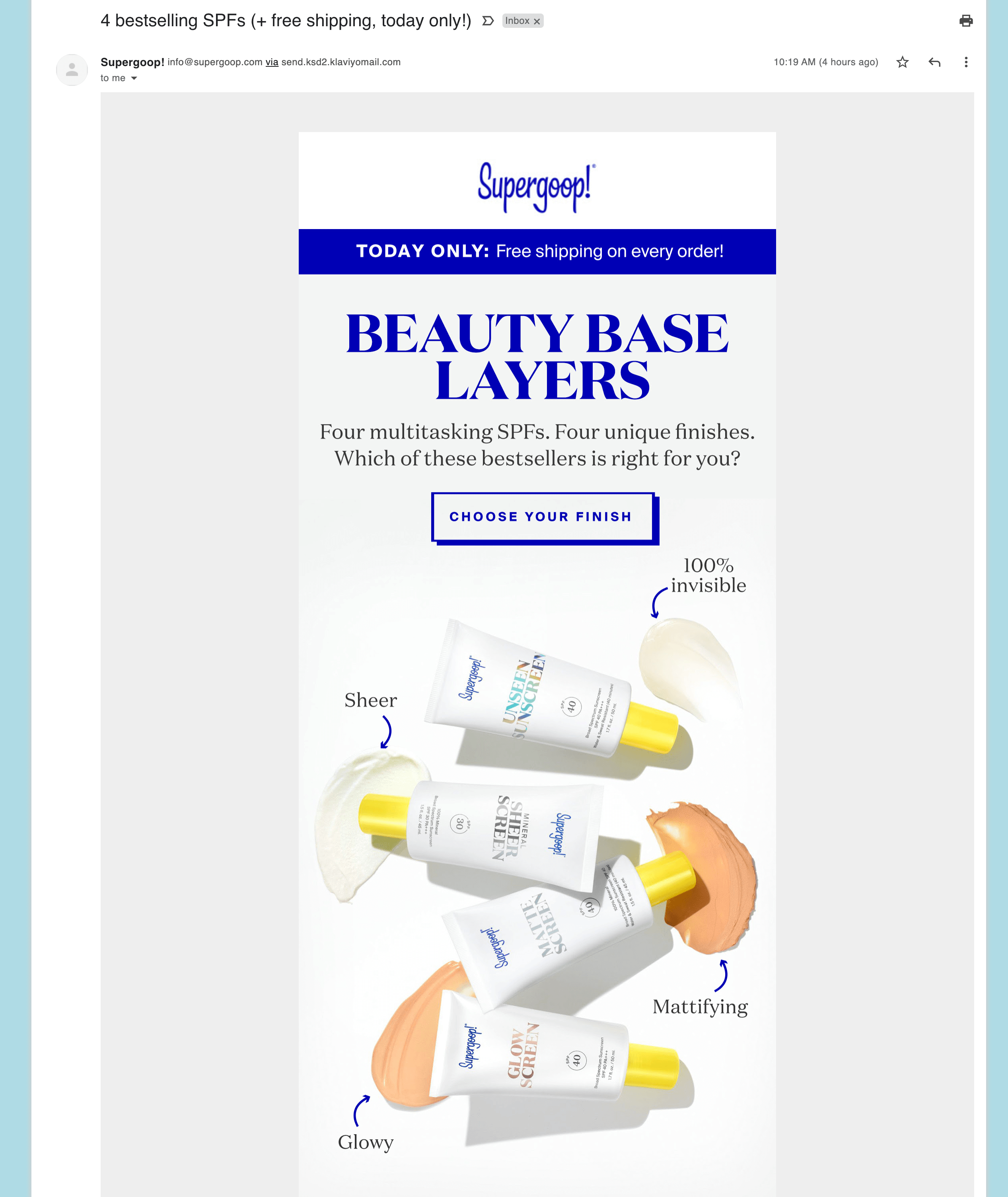 ---
Like what you've read? More marketing examples here!