You've probably heard that confirmation emails have the highest open rates, so you should use them wisely. But what to put in them? Funny gifs or links to other content/products?
The best one I've seen so far is the one I received from Nik Sharma from Sharma Brands. In his auto-reply email to form submissions, he kindly asked recipients to respond to the email with their favorite type of food. He is likely not interested to know the answer, but by doing so, he can:
(like he said) ensure deliverability next time
know the true fans who actually read through the email
immediately form a closer relationship with subscribers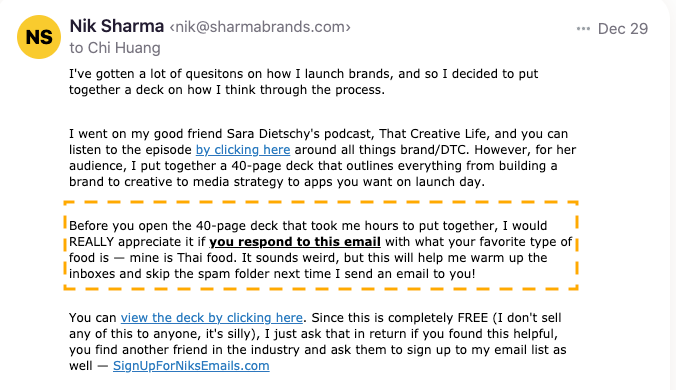 You can also use this tactic to capture some useful information while also achieving all of the above:
B2B: what's your biggest challenge at work?
B2C: what's your favorite influencer?
Find a tool like Drift Email (previously Siftrock) to record the replies. These are invaluable insights for your next campaign.
---
Better deliverability, easier segmentation, closer and better relationship with customers — all of these can be accomplished by simply slipping a question into your confirmation email.