We provide analytics solutions that enable you to leverage data for growth from DAY 1.
A full-time analytics employee costs $120k+/yr.
But your data-led growth & retention doesn't need to wait until your business is ready to hire.
We are here to help! So you can free up your time to focus on other things, in 2023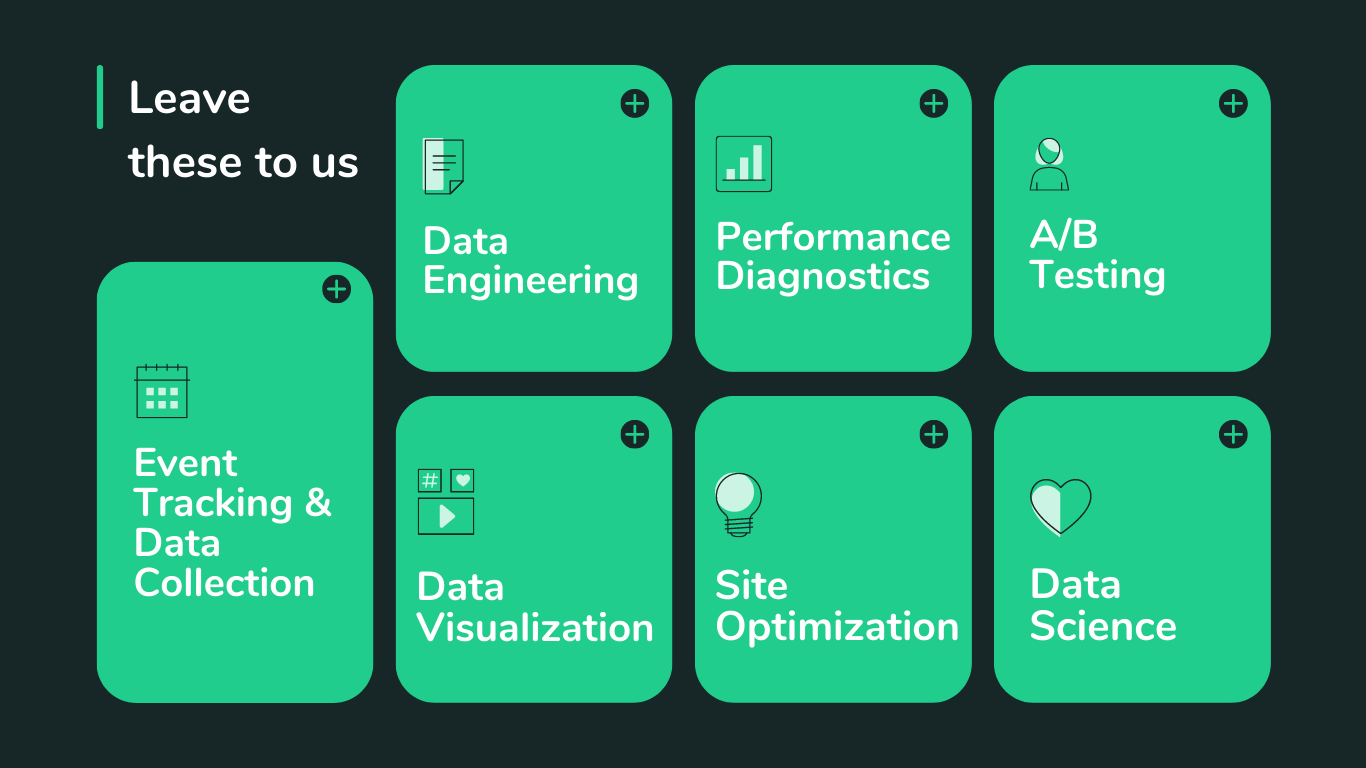 ---
5 reasons you should trust us
✅ Unlike traditional consulting services, we don't waste time just to get more billable hours. We measure our success not by the hours spent but by the deliverables and impact defined by you.
✅ We are not just producing numbers for you. We believe in partnering with you on leveraging data to drive growth.
✅ We've been in the weeds. We have years of experience building marketing analytics functions from the ground up so we know how to work with limited resources and tech stack.
✅ Don't worry about wasted one-time effort. We provide our solution with thorough documentation to support a smooth transition to an in-house team when you are ready.
✅ Designed for your needs. We use the word "concierge" because our solution is personalized for you.
---
What we can offer
Think of us as your data analytics partner. Here are some of the key services we offer but certainly not limited to these.
Event Tracking & Data Collection
Set up and configure Google Analytics 4 (GA4) instance for your website.
Implementation of event tracking to accurately capture user interactions and behaviors.
Data Engineering
Integration of multiple data sources (like Google Analytics, Shopify) into a consolidated, easily manageable data warehouse.
Building and managing data warehouses, and data pipelines on cloud infrastructure.
Ensuring data quality and integrity through data cleansing, validation, and data governance practices.
Data Visualization
Creating reports, dashboards, and visualizations empowers you to make data-driven decisions through easy access to insights.
Performance Diagnostics
Construction of a comprehensive measurement plan.
Identification of optimization opportunities for marketing spend, targeting, messaging, and channel mix.
Site Optimization
Identification of site optimization opportunities to increase desired conversion rate, such as signing up for a newsletter, making a purchase, or filling out a form.
A/B Testing & Incrementality Testing
Design A/B testing and incrementality testing to quantify the impact of different marketing tactics on performance.
Data Science
Development of predictive models to anticipate future trends and user behaviors, aiding in strategic decision-making and campaign personalization. Techniques include time series modeling, marketing mix modeling, propensity models, and more.
---
How we can work together
Project-Based
For projects with a defined timeline and specific deliverables, we offer a structured, end-to-end service. After understanding your unique needs, we'll provide you with a detailed proposal, outlining the scope of the work, project timeline, and estimated cost.
Consulting
If you require our help on an ad-hoc basis —be it troubleshooting a data issue or brainstorming strategic solutions—we can have a flexible retainer arrangement so we can step in whenever you need us.
---
Sounds great! How much does it cost?
We totally get it – it's frustrating when pricing isn't upfront.
So, we want to be transparent: our rates run between $80-$150 per hour.
It's a wide range, but that's because the cost can vary based on the nature and complexity of your project.
Just think of this as a ballpark figure to get you started. We'll give you a custom quote once we know more about your project.
---
Interested in chatting more?
Book a 45-minute intro call. We will also help you with any questions you have for free on the call.